Volunteers drove two-an-a-half hours one way from Olive Grove, MS to help the less fortunate.
On September 4, 2017 a full truck load of disaster relief supplies left the United Methodist Disaster Relief Warehouse in Decatur, AL for victims of Hurricane Harvey. They were shipped to Christ UMC in Sugarland, Texas.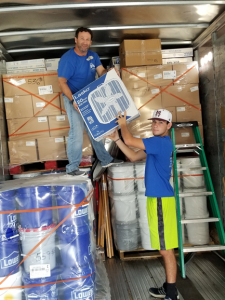 A second shipment went to St. Luke-Simpson UMC in Lake Charles, Louisiana. As Hurricane Harvey survivors begin the recovery process. Other states are bracing for the onslaught of Hurricane Irma and following it, Hurricane Jose.
We know that churches only have so much budgeted for disasters. Hurricane Irma is reported to be the largest hurricane in history and right behind that is Hurricane Jose. Methodists are working together as these storms approach Americas coast lines.
The items we are collecting are designed to help people get back into their homes as soon as possible. (See the list of needed items below.)
However, we have to remember that anything that is given to a victim can become a storage problem if it goes beyond the necessary items for cleanup. I they are living in a shelter or civic building, they have no storage at all. Please keep this in mind as you decide what your contribution can be. When their homes are again livable, they can accept items to live a "new normal life."
At this time, let's try to get these people back into their homes by Christmas. Then they will need furnishing, etc. But for now, let's help them get back into their homes.
Please re-double your efforts to be the hands and feet of Jesus.
Thank you,
Ray Crump
Director
UM Disaster Warehouse
3220 Highway 31 South
Decatur, Alabama 35603
256-341-9961
We are responding with the following supplies:
Box Fans (To dry out houses following flooding)
25' heavy duty extension cords (To move the fans around inside homes)
2 & 3 gallon garden sprayers (to fight mildew and mold)
Flat billed shovels (removal of mud, wet carpet, pads, sheet rock, insulation, etc.)
Rakes (removal of tree limbs, leaves and muck from inside home and yards)
Wheel barrows (2 wheeled, so they will not turn over going to the street)
** 3 M mask respirators Series "N 95" numbers 100, 8293, 8200, 8511, & 8210 (to protect residents and workers while working in mildew and mold. This item is our greatest need.)
Conference communictions people, please disseminate the following information to all your conference churches immediately. Thank you!