Email: info@umdisasterwarehouse.com
You Can Be A Volunteer
Our UMCOR kits are often one of the most important services we provide to those in need after a disaster. Learn how you, your church or volunteer group can help. Give us a call 256-341-9961 or email us for more information.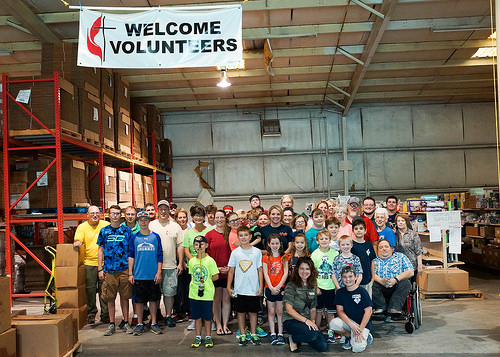 If you would like to volunteer for the U.M. Disaster Warehouse please review the calendar below then fill out and submit the form below it.
We have tasks for everyone and anyone. We do have some tasks for folks with limited mobility. Our volunteers range from youth to retirees. The warehouse itself is not climate controlled, however we do have some tasks in a climate controlled area. Also, bring a camera. You will have fun! If it is a group coming in the winter, a pound cake would be graciously shared with all. We can provide the coffee, plates and utensils. We always have cold bottled water available. Just about any type of food for lunch is available nearby the warehouse. Campers and RV's are welcome at Point Mallard Camp Ground, just three-and-a-half miles away. (Nice full hook ups.) Thanks, U.M. Disaster Warehouse Staff 256-341-9961 U.M. Disaster Warehouse is located at 3220 Hwy 31 South, Building "F", Decatur, AL 35603.
THANK YOU FOR YOUR DONATIONS! Give us a call at 256-341-9961
Calendar and Volunteer Form
January

2020

Sun
Mon
Tue
Wed
Thu
Fri
Sat

1

CLOSED CHRISTMAS HOLIDAYS

•

2

Liftone-Service Fork Lifts 9am-1pm

Health Kit Delivery between 9-1

• •

3

Liftone-Service Fork Lifts 7:30am

•

8

Brian Stahl-Supply Delivery Morning 10:30-11am

•

18

WAREHOUSE-Hours for Volunteer groups: 12-4pm Currently Open For A Group

•

20

WAREHOUSE CLOSED

3:30-4pm Pick Up 200 Small UMCOR Boxes

1 Adult 12-4 1/20 and 9-3pm 1/21

2:30-4pm Tornado Bucket Delivery 100 buckets Vestavia UMC

2:30-3:30pm Hospice Drop Off Adult Diapers

• • • • •

21

1 Adult 12-4 1/20 and 9-3pm 1/21

•

27

WAREHOUSE CLOSED

400 TORNADO BUCKET DELIVERY 11-11:30am

Pick Up 400-480 Empty Tornado Buckets

• • •
How to Volunteer
What is a good team size? (particularly maximum number).
– We have several work lines/tasks that volunteers can do. We do have some tasks for folks with limited mobility. A good group size is up to 12. Up to 20 may be doable, if local trained volunteers are confirmed available to come in and help manage a large group.
Can youth volunteer?
– Yes. Remember, this is a real warehouse with no recreation area, and no child care. Groups with youth need to meet the following requirements:
Youth need to be 11 years old or older.
Your group must include one adult per every 5 youth.  Those adults will be responsible for supervision and mentoring youth.
Examples of tasks volunteers do:
– Verify Cleaning Buckets, Tornado Buckets, Health Kits and School Kits.
– Build Cleaning Buckets, Tornado Buckets, Health Kits and School Kits.
– Bundle/Prep disaster supplies such as trash and zip-lock bags, nails for tarps, wood strips for tarps.
– Build and prep Christmas Gift Shoe Boxes.
Where do teams normally stay while in Decatur?
– There are several hotels in the Decatur area. Including Home2 Suites, Hampton Inn and Holiday Inn Express.
Normal Operating Hours (If you have specific requirements, describe them in the form below to be considered)
Tuesday-Friday:   9am-3pm (except major holidays)
Saturday:               Typically 9am-1pm  (2 Saturdays a month)
A team member will review your request and arrange to put it into the schedule above if we can honor your request.
We will contact you with our response. Please ensure that the calendar has you on the days you plan to be here before arriving.