Email: info@umdisasterwarehouse.com
You Can Be A Volunteer
Our UMCOR kits or often one of the most important services we provide to those in need after a disaster. Learn how you, your church or volunteer group can help. Give us a call 256-341-9961 or email us for more information.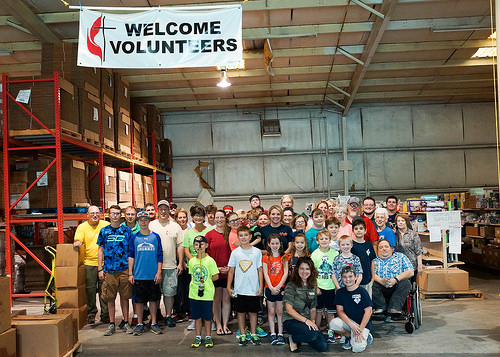 If you would like to volunteer for the U.M. Disaster Warehouse please use our
contact form
to the right to email us. The average age of our volunteers is 74. We have sit down jobs and standup jobs. Our work area is heated in the winter and cooled in the summer. Be sure to call ahead and let us know you are coming. Also, bring a camera. You will have fun!
If it is a group coming in the winter, a pound cake would be graciously shared with all. We can provide the coffee, plates and utensils. Just about any type of food for lunch is available within a mile of the warehouse. Campers and RV's are welcome at Point Mallard Camp Ground, just three-and-a-half miles away. (Nice full hook ups.)
Thanks,
U.M. Disaster Warehouse Staff
256-341-9961
U.M. Disaster Warehouse is located at 3220 Hwy 31 South, Building "F", Decatur, AL 35603.
THANK YOU FOR YOUR DONATIONS!
Give us a call at 256-341-9961